RMC UK are delighted to announce the purchase of Eaton Environmental Services Limited on 30th September 2020.
EES was formed in 1995 providing first class water treatment and water hygiene solutions across southern England. It has steadily grown to cover much of the UK and has a very wide customer base in all areas of education, industry and commerce, protecting clients plant and helping them control the risk from Legionella in their properties.
EES former directors Ian Wall and Mike Little stated, "We firmly believe that the ethos and the excellent service-based cultures within RMC are very closely aligned with those we have engendered within EES, and our staff are very much looking forward to working positively with RMC as we integrate the two companies."
Mike will now be taking a well-earned retirement whilst Ian will be staying on with us as General Manager of the EES Division.
RMC Managing Director, Colin Shipley says "Having spent some time with both Ian and Mike over the last few months, I have been impressed with the EES team's dedication to providing the highest level of service to their customer base. The combination of our two businesses will allow us to form a stronger, customer focused organisation that will continue to develop and innovate."
As with RMC, Eaton are a family orientated company and the business centres around this. We warmly welcome all EES employees and customers into the RMC family.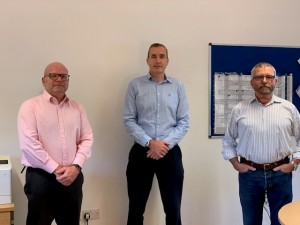 Left to Right : Ian Wall, Colin Shipley, Mike Little